GR 65 - Way of Saint James in Isère from Romagnieu to Valencogne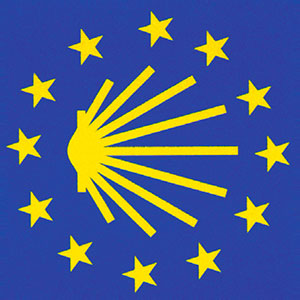 The Via Gebenensis [Way of Geneva] comes from Geneva and joins Le Puy en Velay and the Way of Saint James, 1700km (Spain). After Savoie, the route gets smoother when you reach the hills of Dauphiné, inviting walkers to take this thousand-year-old challenging and spiritual route.
Four historical routes led to Santiago, meeting in one in Puenta la Reina, Spain. The Via Tolosana started from Arles, the Via Podiensis from Puy-en-Velay, the Via Lemovicencis from Vézelay and the Via Turomencis from Tours.

If many pilgrims go to Compostela from these four places, a certain number began their solitary walk further. Among these itineraries attached to a main route, the "Via Gebennensis", from the Latin name of the city of departure Geneva, allows German and Swiss pilgrims to join the Via Podiensis or route du Puy since 1998. Every year, 3500 pilgrims take this section of 350 kilometers also called GR65.

After the mountains of Savoie, The way of St James enters in Isère by the communes of Aoste/ Romagnieu/ Les Abrets en Dauphiné / Saint Ondras and Valencogne for a soft stage on the hills of the Vals du Dauphiné. In, 1998, the pilgrims road of St James was included in the UNESCO World Heritage List.

The paths are marked and safe. The pilgrims of the 21st century, who are often well equipped, have very diverse motivations and go to Santiago on foot but also by bike or on horseback

Pilgrims accomodations ( Accueils jacquaires) are installed in the area. They welcome you on presentation of the "credential".
You can find their contact details in the "Guide Jaune Genève- Le Puy en Velay" of the Amis de St Jacques de Compostelle Rhône Alpes on sale at the association or in the tourist offices (10€).
Marked itinerary
Distance : 29km
Hiking map : The yellow guide for the Way of Saint James from Geneva to Puy-en-Velay via the GR65 and the Vals du Dauphiné trail map are available for purchase in the tourist offices of Pont de Beauvoisin, Les Abrets en Dauphiné or La Tour du Pin.
Openings
All year round
Opening hours daily .
GR 65 - Way of Saint James in Isère from Romagnieu to Valencogne
38490 Les Abrets en Dauphiné